I carry a credit card balance. . .how do I use a credit card to get out of debt?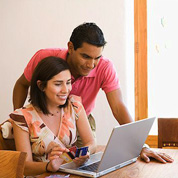 Develop a strategy to pay down your credit card debt.
In a recent survey, 28% of people said their ability to pay off their credit card balance has become more difficult.*
In a tough economic climate, it's especially important to develop a strategy to pay down your credit card debt.
Experts suggest you concentrate on paying on time, paying more than the minimum payments and keeping your debt to utilization ratio to 30% of your credit card limit.
You may want to check into credit cards that offer cash rewards for making payments on time—and credit cards that offer resources to help you manage and analyze your expenses. Check into what resources your credit card offers to help you manage your money payment—such as payment due e-mail reminders and online financial calculators.
Some basic tips for using a credit card wisely:
If you're worried about paying late, see if you can create an online account with your credit card company and then pay your bill online each month. If you pay early enough in the day, your payment will be credited the day of the transfer. You'll save postage and have more control over your account.
Many credit card companies offer online services—such as e-mail alerts that help you avoid late fees and overlimit fees. Staying within your credit limit and making on-time payments can help you keep a low APR and helps your credit history.
Make more than the minimum payment. Paying more than the minimum will help you pay off your credit card debt faster, lower finance charges and save you more money.
Maintain your cards with the lower interest rates, while paying off, or make bigger payments on, credit cards with the highest interest rates.
Be sure to read and understand the terms and conditions (you can call customer service if you don't understand any part of your card agreement).
Take advantage of whatever tools are offered to help you manage your credit card debt —such as online payment calculators or free same-day payments by phone or online.
On-time payments and reducing card balances help your credit rating. The better your credit history, the higher your credit score. The higher your credit score, the lower your interest rates.
Get the most value from a low or 0% APR offer on balance transfers and purchases by paying off your debt before the introductory offer is over.
Discover Card believes that consumers should be armed with the information they need to help them make informed financial decisions.
Consumers who carry a balance and don't put a lot on their credit card may be well-suited for a cash rewards credit card that gives interest back for on-time payments, as well as cash rewards on everyday purchases. Find out more about the Discover Motiva Card.
TIP:
Many credit cards offer financial literacy resources to help you make informed decisions. Online calculators that help you pay down your credit card debt can also be valuable resources. Click here for a Credit Card Financial Glossary.